Jessica Meyer is a mental health professional who has spent over eight years working in various roles in this field. She holds a BA in Psychology and earned a Masters Degree in Counseling Psychology from Pacifica Graduate Institute. Jessica has worked with various populations of young people ranging from two years old to 18 years old. Jessica has experience managing caseloads of youth in treatment foster care, working closely with psychiatrists, therapists, lawyers, and families. In her work in New Mexico, she received training in DBT and CBT and has also received training in Applied Behavior Analysis (ABA) in her work with autistic children. Additionally, Jessica has experience and has been trained in various types of de-escalation techniques and crisis management.
Not only has Jessica worked in the treatment field, but is in personal recovery herself. Because of this, she has empathy and compassion for those who are in treatment and who have their own struggles. Jessica works very hard in her own 12 step program and has a deep passion for being of service to others. She especially loves teenagers, with deep compassion for all their struggles and strengths.
Stephanie is a certified nursing assistant and is working to pursue her Bachelor of Science with a Major in Nursing. In 2014 Stephaine started working children and teens. With an interest in the medical field and a desire to work with young people, Stephanie began her career working in treatment for rehabilitation with young adults.
Following her passion in 2019, she transitioned into working with teens in the mental health field and joined Polaris as a Program Aide. As an integral part of the Polaris team, she was promoted to Lead Program Aide and eventually to Residential Supervisor, in which she co-supervises all floor staff. Working for Polaris, Stephanie has been able to witness the positive impact and change the program and staff have on the teens and their families.
Briana is a teacher with a Multiple Subject Teaching Credential from Antioch University. Her BA degree was in television production where she began working in casting with child actors and then shifted to her passion for education. Once at Antioch she developed her teaching philosophy of promoting social justice and specialized teaching for the individual.
Through her experiences of teaching at various schools in the Los Angeles area, Briana became skilled at helping children with not only their academic goals, but in focusing on social and emotional learning as well. Briana has worked with children and adolescents with many different types of special needs, disabilities, and emotional challenges.
Briana's main goal is to facilitate a comfortable environment where children's needs will be heard. She is consistently focused on assisting young people in their academic needs to stay on track, as well as acquiring the tools to work through any issues so they are enabled them to develop the best version of their true selves.
Lisa has over ten years' teaching experience in various academic settings. She holds a master's degree in Education from Sierra Nevada College and a bachelor's degree in Sociology from UNLV. Her classroom experience began as an ESL (English as a second language) instructor in Las Vegas helping international students, both teens and adults, become acclimated to the English language and American culture. This transitioned into Lisa earning her state teaching license in secondary education, with which she taught middle school ELA for over six years. During that time, she developed skills and delivery approaches to help students of various backgrounds and challenges, including physical, mental, and emotional, to succeed in their studies.
Lisa enjoys working with students in smaller groups settings or in a one-to-one situation so that she can tailor the content delivery to that student's specific needs and learning style. She is able to apply those skills in a one-to-one setting with the students here at Polaris to facilitate their continuing educational progress during their stay.
Laura is a graduate student pursuing her license in marriage and family therapy. She enjoys working with young people, and helping them foster growth and achievement in their lives.
She began her journey at Polaris as a Program Aide, which has benefited her mental health career. She was promoted to Lead Program Aide, Alumni Coordinator, and then Residential Manager. During her time at Polaris, she has witnessed the tremendous progress clients can make during treatment, and as Alumni Coordinator, she has seen that impact continue.
Jocelyn Zepeda is a Cal State Long Beach alumni with a Bachelors in Social Work and is currently pursuing a Masters degree in Social Work. She has worked with children of all ages in different settings. She worked with children in a foster/adoption agency as a case manager and then moved on to work for an after school organization in the role of classroom assistant. Jocelyn is passionate about working with children to ensure their well being and wants to be an advocate for all children. She started as a Program Aide at Polaris and is now a Residential Manager. Her different experiences have taught her about mental services and mental health, which is a pathway for her career.
Vanessa is a highly dedicated and compassionate individual with a strong background in working with children. She has a Bachelor's degree in Psychology, and driven by her passion for helping children, she is currently pursuing a certification to become a Child Life Specialist. 
From being a childcare worker, a pediatric nurse assistant, and volunteering at the Boys & Girls club: Vanessa has gained valuable experience in various child-focused roles. She aims to utilize her knowledge and experience to address the unique challenges faced by children. She firmly believes that investing in the mental well-being of children is crucial for shaping a brighter future.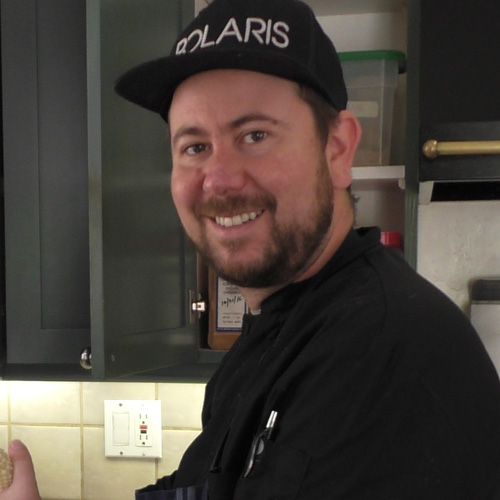 ROBERT BRACALIELLO, BS, AA and ASHER YOUNG
EXECUTIVE CHEF
Robert Bracaliello began working in treatment in 2001 as a counselor for at risk youth after earning his Bachelor of Science in Psychology from Rutgers University. He went on to earn Associate of Arts in Culinary Arts from Le Cordon Bleu in 2004. Robert has served as a restaurant consultant, personal chef, food judge, sous chef, and executive chef/owner of Residential Dining Solutions. We are excited because of the insight he brings to the position bridging the world of food service and treatment. His multi-faceted experience translates to a better experience for our residents and guests.
Learn More About the Program - get started